NOTICES ABOUT DOWNLOAD AND INSTALLATION OF THE SOFTWARE
Scriba Lyric software desn't containe spyware, or malware, or browser add on, or other application inside hidden. We are able to ensure the security of Scriba Lyric software. If you like, after the download and before the installation you can check it by any antivirus. Nevertheless, before the download and before the installation, some alert messages could be displayed. Don't worry about them. This is totally normal. Please, read the information below to know how to behave.
Before downloading the file and before installation your browser and Windows could show you some alert messages. These messages are totally normal, so you need not worry. You can safely continue the download and the installation. We want to remember you that no other site in the world has a license to distribute our software.
WARNING: In WINDOWS 10, after the download, when you run the downloaded file you could see the message 'Windows protect your PC' with the push button 'Don't run'. This is normal!!! In this case, click on 'More info' (see picture on the left side below). The push button 'Run anyway' will be displayed. To continue the installation click on the push button 'Run anyway' as you can see in the right picture below.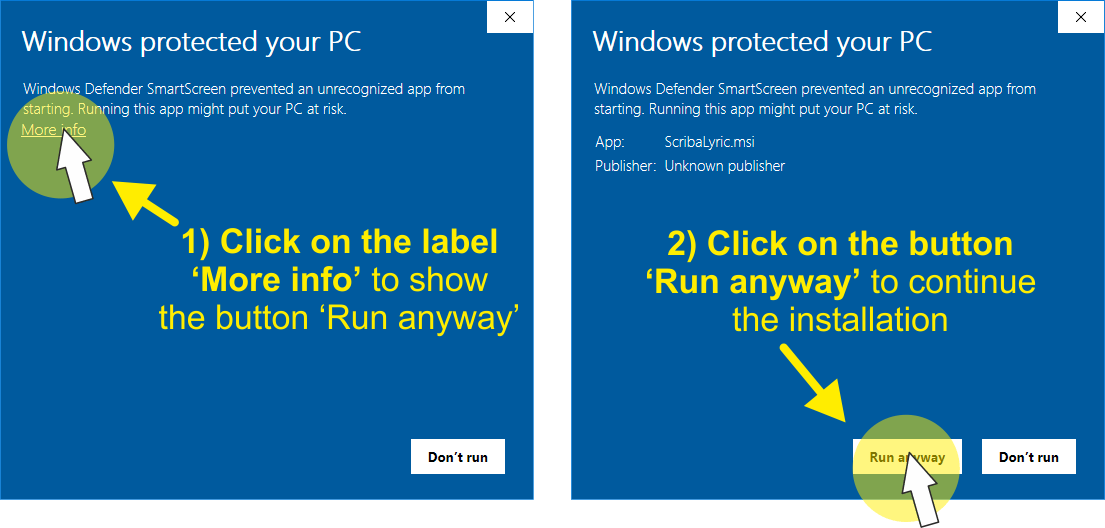 Now you have got all information to download and install the software. To download the software click on the green button below and remember what you just read.
To learn how to download and install the software you can watch the video tutorial below.